Here are some items which you can buy directly from me. I have added some Pay Pal buttons to make the purchase easier. Payment must be made to PayPal or Venmo in full before shipping.
If you want something specific, email me with a description of what you would like, and I will get back to you with a price and specifications of what is included in that price. If you want to accept the deal then I would require a 50% down payment to start and the final payment and shipping cost at completion.
I use FedEx ground shipping, and buy insurance on the shipping.
Kelali T shirts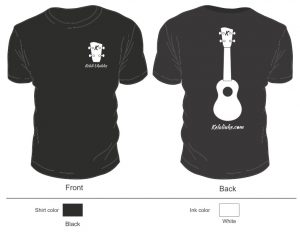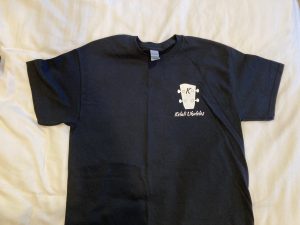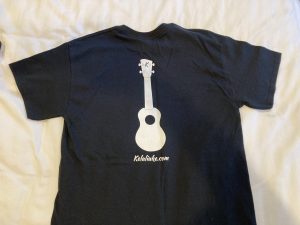 Cotton T shirts with silk screened images. The silk screening is done locally for me in Santa Rosa, Ca.
If you would like to purchase, please email me for payment instructions include your mailing address.
I currently only have medium and large in stock. Extra large will take a week or two to manufacture. If sales warrant I will purchase larger quantities for stock on hand and create a buy now button.
$20 when added onto the purchase of an ukulele and can be shipped with the instrument
$25 if purchased and shipped by itself (to cover the cost of mailing)
__________________________________________
Website Exclusive only available here for a limited time!
KU187, Kelali Baritone Guitalele with Walnut and Engelman Spruce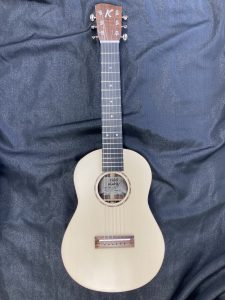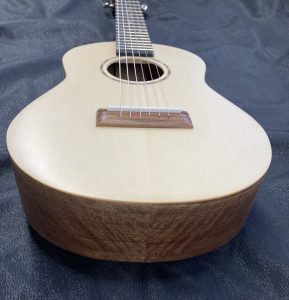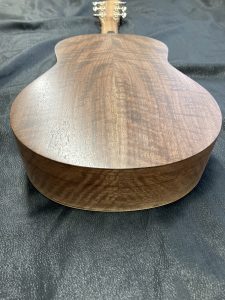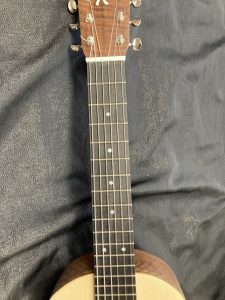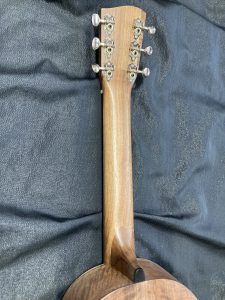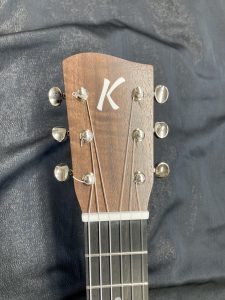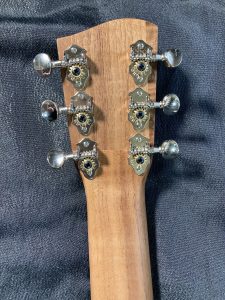 $675, includes shipping to lower continental US
A 6 string guitalele aka kiku, soprano guitar, or ukitar, which is a cross between guitar and a ukulele. This one is built with a standard size Baritone ukulele body with a 20″ scale length. The fret board is wider and less tapered. The strings are Pepe Romero UG1 strings ADGCEA which is the same as putting a capo on the 5th fret of a guitar.
3A grade Black Walnut
Engelman Spruce soundboard with inlaid rosette
Walnut hand shaped neck with an imbedded carbon fiber rod for stability
1st grade Ebony fingerboard with inlaid Mother of Pearl dots and side dots
Fretboard is 49mm wide at the nut, with strings about 8mm apart at the nut
Nickel silver frets
Rosewood bridge
Corian nut and saddle
Grover Sta Tite tuners
Satin Lacquer finish
Pepe Romero UG1 strings with 3 wound strings and 3 Fluorocarbon
Serial #187
Also this soprano is only available here for this price.
KU169, Kelali Soprano with Honduran Mahogany and Spruce
$195, includes free shipping to lower continental US
Kelali Soprano shallow bodied ukulele made with all solid woods Honduran Mahogany and Sitka Spruce. Sound is loud and clear. I made it as a student instrument, but it came out sounding better than I expected.
Honduras mahogany back, sides and hand shaped Spanish style neck

Sitka Spruce soundboard with inlaid black rosette

Madagascar rosewood fingerboard and bridge

ebony nut and saddle

nickel silver frets level and polished, with fret ends dressed

Mother of Pearl dots

Grover Sta Tite tuners

Oasis warm and clear strings High G

Satin nitrocellulose lacquer finish
serial #169
__________________________________________
KU182, Kelali Baritone with all Hawaiian Koa body
$750, includes free shipping to lower continental US
All Koa body AA grade wood.
Hawaiian Koa body
Hand made walnut bindings of Walnut with black and white accents
Honduran Mahogany hand shaped neck, with inlaid carbon fiber rod under the fingerboard for stability
Ebony fingerboard with Pua abalone dots
Nickel silver frets
Corian nut and saddle
Grover Sta Tite tuners
Worth fluorocarbon strings in traditional DGBE. (Photo shows Martin strings with a wound D and G, but the strings were changed to Worth after the photo because I prefer their sound with Koa).
serial #182
Or Venmo, contact me for my Venmo account
__________________________________________________
KU180, Kelali Baritone with all Honduras Mahogany body
$700, includes free shipping to lower continental US
All Honduran Mahogany body and neck with all the superb deep rich sound that Mahogany delivers, accentuated with Martin strings. 1.5″ wide fingerboard at the nut makes for easier playing for those with larger fingers.
Honduran Mahogany body, grown in Mexico, with inlaid rosette
Honduran Mahogany hand shaped neck with carbon fiber rod inlaid for extra stability, 1.5″ wide at the nut
Birdseye Maple head plate
Hand made walnut binding with white and black accents
African ebony fingerboard with 18 nickel silver frets and Mother of Pearl inlaid dots
Madagascar Rosewood bridge
Corian nut and saddle
Grover Sta Tite tuners
Martin M630 strings with traditional DGBE and wound D and G
Satin Lacquer finish over 2 coats of CA pore filler, leaving a more natural look with wood pores not totally filled
Or Venmo, contact me for my Venmo account