Kelali T shirts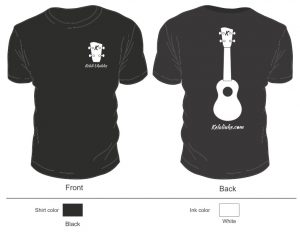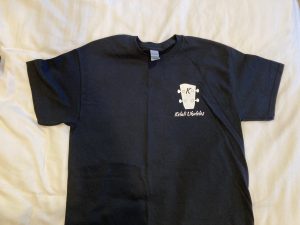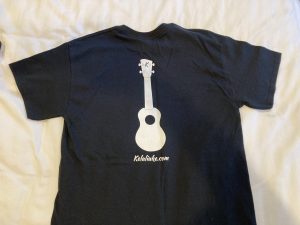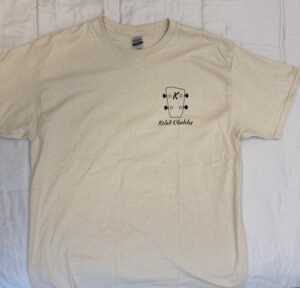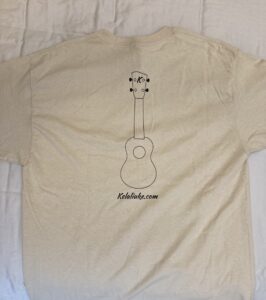 Cotton T shirts with silk screened images. The silk screening was done for me in Santa Rosa, Ca.
If you would like to purchase, please email me for payment instructions include your mailing address.
I currently only have medium and large in stock. Extra large will take a week or two to manufacture. If sales warrant I will purchase larger quantities for stock on hand and create a buy now button.
$20 when added onto the purchase of an ukulele and can be shipped with the instrument
$25 if purchased and shipped by itself (to cover the cost of mailing)
_________________________________
KU206, Walnut and Cedar Tenor
$600,  includes free shipping to lower continental US
Smooth and mellow sounding Tenor  with beautiful wood. The walnut shows where the white walnut and black walnut tree was grafted together, grown in an orchard in the central valley of California. The curly Port Orford Cedar smells good and makes an excellent soundboard, adding to the visual beauty.
Walnut back, sides, and headstock plate
Port Orford Cedar soundboard with an inlaid rosette
Ziricote fingerboard with inlaid Pua Abalone dots, waxed and oiled
18 nickel silver frets, ends dressed smooth, and polished
Ebony bridge
Corian nut and saddle
Grover Sta Tite tuners
Aquila Super Nylgut strings
Satin lacquer finish over CA sealer
Serial #206
____________________
KU205, Mahogany Baritone
$550, includes free shipping to lower continental US
Honduras Mahogany body and neck, which I dressed up with blue and white accents in the rosette and binding, as well as a pistacio fretboard and bridge. I was able to line up the graft on the pistacio wood with the 12th fret. Wonderful rich sound. Does not include a case.
Honduras Mahogany body and neck
Blue and white accented bindings and inlaid rosette
Pistacio fretboard and bridge
Pua abalone fretboard dots
Nickel silver frets
Corian nut and saddle
Walnut headstock plate
Grover U98 tuners
Martin M630 strings, 2 wound 2 fluorocarbon
Satin lacquer finish over CA pore sealer
Serial # 205
Purchase with one of the methods below
Buy with Square
Kelali Baritone KU205
$550.00
Or buy with Paypal
___________________________________
KU204, Koa Baritone
 
Sold
Hawaiian Koa Baritone ukulele whose Koa was sustainably harvested from dead and dying trees on the big island. This set features a nice mild curl in the wood grain.
Features:
Koa back, sides, soundboard, and headstock plate
Hand made walnut binding with black and white/black accent
Inlaid black rosette
Honduras Mahogany hand shaped neck
Ebony bridge
Corian nut and saddle
Ebony fingerboard with inlaid Mother of Pearl dots
Nickel silver frets
Grover U98 tuning machines
Aquila Lava strings with wound D & G
Satin Lacquer finish
Includes Kala Uke Crazy poly foam case
Serial #204
__________________________
KU187, Kelali Baritone Guitalele with Walnut and Engelman Spruce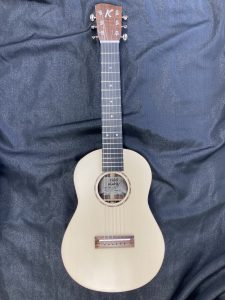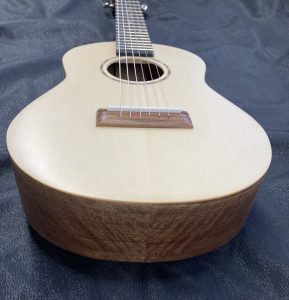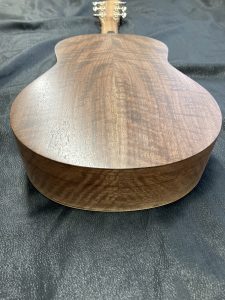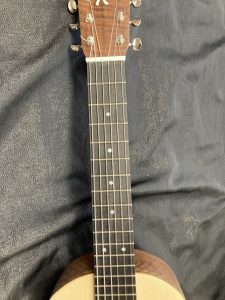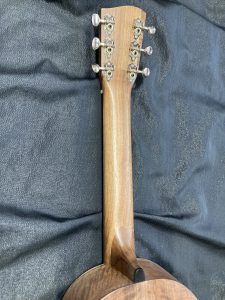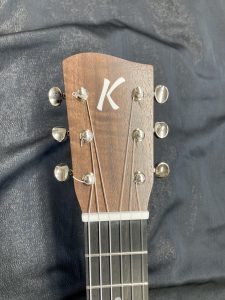 $675, includes shipping to lower continental US
A 6 string guitalele also called a kiku, soprano guitar, or ukitar, which is a cross between guitar and a ukulele. This one is built with a standard size Baritone ukulele body with a 20″ scale length. The fret board is wider and less tapered. The strings are Pepe Romero UG1 strings ADGCEA which is the same as putting a capo on the 5th fret of a guitar.
3A grade Black Walnut
Engelman Spruce soundboard with inlaid rosette
Walnut hand shaped neck with an imbedded carbon fiber rod for stability
1st grade Ebony fingerboard with inlaid Mother of Pearl dots and side dots
Fretboard is 49mm wide at the nut, with strings about 8mm apart at the nut
Nickel silver frets
Rosewood bridge
Corian nut and saddle
Grover Sta Tite tuners
Satin Lacquer finish
Pepe Romero UG1 strings with 3 wound strings and 3 Fluorocarbon
Serial #187
__________________________________________________________