KU221, Redwood and Walnut Tenor
Sold
Rich and mellow tone, featuring rope rosette and Koa binding
4A grade Walnut back and sides
3A grade Redwood soundboard
Rope style rosette made with Koa and Maple
Spanish Cedar neck with Spanish heel construction
Koa bindings with black and white accent
Maccasar Ebony fingerboard with Mother of pearl fret markers, and ebony bridge
corian nut and saddle
Grover 8n tuners
Satin lacquer finish
Aquila Super Nylgut strings
serial #221
________________________________
KU215, Master grade Koa Soprano with rope binding

$850, included free shipping to lower continental US
Beautiful cute soprano with Weissenborn style rope bindings. Warm rich tone. It originally had been constructed with Grover closed back tuners, but to lighten the weight of the neck and clean up the headstock, I switched to the Gotoh UPT tuners. The original screw holes were filled with mahogany , but can still be seen on the back of the headstock.
Master grade Hawaiian Koa
Mahogany neck, Spanish heel construction
Weissenborn style rope binding  and rosette made with walnut and maple
Bone nut and saddle
Ebony fingerboard with inlaid Mother of Pearl fret markers
12th fret fingerboard connection
Gotoh UPT tuners 4:1 gear ratio
Satin lacquer finish
Martin 600 fluorocarbon strings
Serial #215
KU219, Concert all Mahogany
$445, includes shipping to lower continental US
Lovely warm sounding concert ukulele with rich Honduras Mahogany body and neck. Koa accent bindings and headstock plate, inlaid rosette, Ebony fingerboard with Pua Abalone dots, ebony bridge, and bone nut and saddle. Grover Sta Tite tuners and Oasis warm and clear strings bring out the mellow tone.
serial # 219
__________________________________________
KU218, Baritone with Maple and Redwood
$725, includes shipping to lower continental US
My most popular baritone for performing musicians. Rich full sound in a beautiful package. This one has Graphtech Tune-a-lele tuners with 6:1 turning ratio.
4A grade Maple back and sides
Redwood soundboard with inlaid rosette
Curly Koa bindings
Spanish Cedar neck with inlaid carbon fiber rod for stability
Flat Ebony fingerboard 37mm wide at the nut, Mother of Pearl dots
Ebony bridge, bone nut and saddle
Graphtech tune-a-lele tuners
Satin lacquer finish
Option to add on a Kala uke crazy hard polyfoam case at my cost, select your option from the drop down box below
serial # 218
_____________________________________________
KU217, Baritone with Walnut and Port Orford Cedar
$700, includes shipping to lower continental US
Mellow, rich sounding baritone with beautiful curly 4A grade Walnut back and sides with a straight grained Port Orford Cedar soundboard.
4A grade American black walnut
Port Orford cedar soundboard with inlaid rosette
Walnut binding with black and white accent
Spanish Cedar neck with an inlaid carbon fiber rod for added stability
African Ebony  fingerboard 1.5″ wide at the nut, with Mother of Pearl inlaid dots
Ebony bridge, bone nut and saddle
Grover U98 tuners
Martin 630 strings, 2 wound and 2 fluorocarbon
Satin lacquer finish over CA sealer
Option to add on Kala Uke Crazy hard polyfoam case
serial # 217
________________________________________
KU 216 Soprano with Mahogany
$395, includes shipping to lower continental US
Honduras Mahogany body and neck
Walnut bindings with black and white accent
Ebony fingerboard with Pua abalone fret markers
Spanish heel neck connection at the 12th fret
corian nut and saddle
Der Jung smooth turning tuners
Satin lacquer finish
serial #216
KU210, Baritone with Curly Koa body
$750, includes free shipping to lower continental US
Rare AAA grade curly Koa Baritone. The wood is a light toned golden Koa, and a lighter weight Koa as well. This one has a couple upgrades: bound fretboard so the fretboard edge is cleaner looking without the fret tangs showing, and gold Grover 205 closed back tuners for a cleaner look as well. Martin 630 strings take advantage of Baritone body to deliver excellent volume and sustain. The body is unadorned with bindings etc, to show off the wood, much like you would find on ukuleles made in Hawaii.
Curly Hawaiian Koa body with inlaid thin black rosette
Honduran Mahogany hand shaped neck
Bound ebony fingerboard with Mother of Pearl dots
Nickel silver frets, level and polished with fret ends smoothed
ebony bridge, with through bridge string attachment
Corian nut and saddle
Grover 205 closed back tuners
Martin 630 strings with 2 wound strings, 2 fluorocarbon
Satin lacquer finish over CA pore filler
serial #210
________________
Kelali T shirts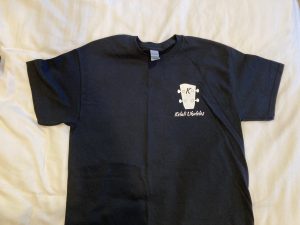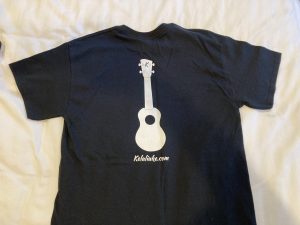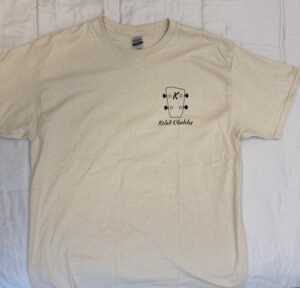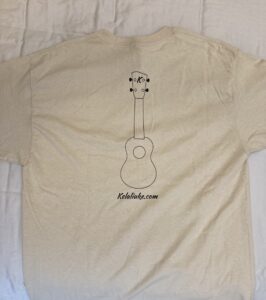 Cotton T shirts with silk screened images. The silk screening was done for me in Santa Rosa, Ca.
$20 when purchased with an ukulele and can be shipped with the instrument. You will need to make 2 separate purchases, the shirt and the instrument since there is no shopping cart. I will see the orders and them and ship together.
_________________________________