Here are some items which you can buy directly from me. I have added some Pay Pal buttons to make the purchase easier, or you can contact me if you are interested, and I will give you my PayPal account and hold the item for you. Payment must be made to PayPal in full before shipping.
You can also purchase an instrument which is already finished on Ebay.
If you want something specific, email me with a description of what you would like, and I will get back to you with a price and specifications of what is included in that price. If you want to accept the deal then I would require a 50% down payment to start and the final payment and shipping cost at completion.
I use FedEx ground shipping or USPS whichever is less, and buy insurance on the shipping.
KU173, Kelali Tenor with Birdseye Maple and Redwood
Beautiful hand made Tenor ukulele made with Birdseye Maple back and sides, and curly Redwood top. The combination of woods and V braced soundboard delivers good volume and all around rich sound. Hand made bindings made from Walnut with black and white thin wood accents. I chose Aquila Super Nylgut strings to finish the sound by mellowing and accentuating more of the mid tones. The pearl colored strings also compliment the Mother of Pearl fingerboard dots. The neck has an inlaid carbon fiber rod for stability.
Sold 
Birdseye Maple back, sides, headstock 

Curly Redwood top with inlaid rosette

Honduran Mahogany neck with inlaid carbon fiber rod to assure the neck stays stable

Madagascar Rosewood fingerboard with nickel silver frets and Mother of Pearl inlaid dots

Frets are level with no buzzing, fret ends dressed for smoothness

Grover Sta Tite tuners

Aquila Super Nylgut strings High G

Corian Nut and saddle

Gloss lacquer finish
KU175, Kelali Baritone with all Koa body
$700, includes free shipping to lower continental US
Kelali Baritone ukulele with all Koa body sustainably obtained from Hawaii.
Honduran Mahogany hand shaped neck
African Ebony fingerboard 1.5″ wide at the nut, ebony bridge
Pua Abalone dots
Corian Nut and Saddle
Nickel Silver frets
Grover Sta Tite tuners
Pores filled with CA
Satin lacquer finish
Worth all fluorocarbon clear strings
Optional cloth covered hard poly foam case
serial #175
____________________________________________________

KU169, Kelali Soprano with Honduran Mahogany and Spruce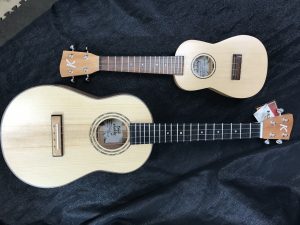 $275, includes free shipping to lower continental US
Kelali Soprano ukulele made with all solid woods Honduran Mahogany and Sitka Spruce. Sound is loud and clear. 
One of the displayed photos shows this item next to a baritone instrument for size comparison only. The baritone is listed for sale separately.
Honduras mahogany back, sides and hand shaped Spanish style neck

Sitka Spruce soundboard with inlaid black rosette

Madagascar rosewood fingerboard and bridge

ebon nut and saddle

nickel silver frets level and polished, with fret ends dressed

Mother of Pearl dots

Grover Sta Tite tuners

Oasis warm and clear strings High G

Satin nitrocellulose lacquer finish
serial #169
________________________________________________
KU166, Kelali Tenor with all quilted Maple body
Sold
Solid wood quilted Maple back top and sides
bindings made from the same wood with black wood accent
inlaid rosette of thin black wood
hand shaped Honduran mahogany neck, with embedded carbon fiber rod under the fingerboard for stability
premium ebony fingerboard with nickel silver frets, level and fret ends dressed
Pua Abalone fingerboard dots
bridge made from ebony and maple
Corian nut and saddle
Aquila super nylgut strings in High G
Grover Sta Tite tuners
Satin lacquer finish
option for hard cloth covered uke crazy case
serial #166
_________________________________________
KU157, Kelali Baritone with Walnut and Spruce
Sold 
Walnut back and sides with some fiddleback curl
Back and side pores filled prior to lacquering
Sitka Spruce top with inlaid rosette
Honduras Mahogany hand carved neck with Spanish Heel construction
African Ebony fingerboard, 1 3/8″ at the nut, with inlaid mother of pearl dots and side dots
Nickel / silver frets, level and polished, fret ends dressed and polished
Corian nut and saddle
Grover sta tite tuning machines
Martin M630 strings
Sprayed satin lacquer finish
Lightweight hard cloth covered poly foam case available for an extra $50
Serial #157